Click here to view original web page at www.register-herald.com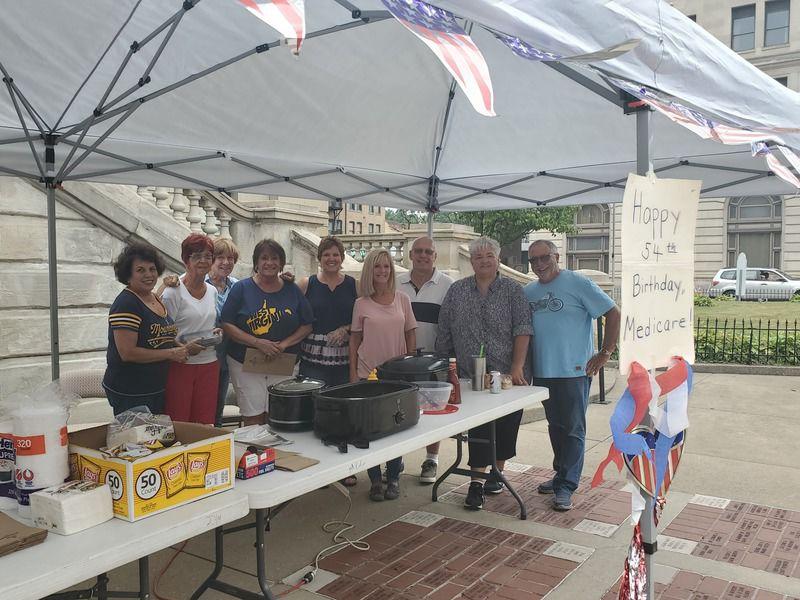 FAIRMONT – Fifty-four years ago Tuesday, President Lyndon B. Johnson signed Medicare into law and forever changed the health care landscape for those 65 and older.
To commemorate the anniversary, the West Virginia Democratic Women hosted a hot dog sale outside the Marion County Courthouse, which was meant to both spread awareness of the program's successes, and to raise money for charitable organizations in the area.
"Today is the anniversary that Medicare was signed," said Belinda Biafore, state chair of the Democratic Party on Tuesday. "We think that's very important. It affects a lot of people especially here in West Virginia, so we just want to make everybody aware."
According to the Henry J. Kaiser Family Foundation, which studies health care service delivery in the U.S., 443,870 West Virginians were enrolled in Medicare in 2018. That's 25 percent of the state's population, compared with a little more than 18 percent of the United States population enrolled in Medicare.
"With this being the day of Medicare's 54th birthday, we thought it would be a good time to do a celebration," said Rosie Saunders, state secretary of the Democratic Women's Club. "The money that we get we always donate it to different organizations here in the county."
Representatives from different West Virginia organizations volunteered at the sale as well to take part in the celebration of a program that benefits people age 65 and over.
"A lot of people benefit from it and it should be celebrated," said Mark Dorsey, president of the Marion County AFL-CIO labor council. "It's just not for union people but Medicare, in general, is good for everybody, and certainly unions play a part in trying to keep benefits for everyone."
Saunders said Medicare is an important part of our country's history and not just because she personally benefits from the program.
"It's like little by little we're being drained of a lot of our benefits," Saunders said. "I'm on Medicare myself, and without that, we don't have anything."
Marion County Delegates Linda Longstreth, (D-50), and Mike Caputo, (D-50), also made an appearance at the hot dog sale, and commented on the state of Medicare and its meaning to West Virginians in modern times.
"Medicare is a program that was created to make sure older adults are cared for," Longstreth said. "People don't understand, and if this helps to make people realize and think about it, then we've done something good today."
Caputo said he was happy to take part in the commemoration because Medicare is something that many people would have trouble surviving without.
"First of all the importance of Democratic policies that exist in this country because of good folks who wanted to take care of people," Caputo said. "These are all values people need to survive and people earn throughout their lifetime. We can't ever lose sight of that."
With the party commemorating milestones of several cultural touchstones over the years, Tuesday's hot dog sale won't be the last anniversary the organizations celebrates with an event.
"We did Medicare the year it was 50 years old and then last year we did women's equality," Biafore said. "So that will be coming up in August so I'm sure we'll be doing something for that."
React to this story: